What are the medium- to long-term growth strategies?
We will aggressively expand the overseas business to make it profitable early on. At the same time, we will focus on incorporating new demand such as that from seniors in Japan.
To achieve sustainable growth over the medium to long term, AEON MALL will further expand the overseas business in China and the ASEAN region, which are growth markets. We will also focus on strengthening the revenue base in Japan by opening new malls and revitalizing existing malls in a planned manner, and work to create new markets by developing urban fashion buildings.
In the overseas business, we will open new malls by carefully selecting areas with prospects for economic development and market expansion for the mall business, and promote efforts to enhance earnings at existing malls. In fiscal 2016, we plan to make a total of 10 malls profitable.
At the same time, we will work to increase profitability at existing malls in Japan, where consumer spending remains weak after the consumption tax hike, through large-scale revitalization programs. Concerning results in fiscal 2014 and fiscal 2015, there is data showing that the higher the store renovation rate, the higher the growth rate of sales at specialty store is. Therefore, we plan to revitalize 21 malls, twice the number in the previous fiscal year, in fiscal 2016.
Looking at new mall openings from fiscal 2016 in Japan, we plan to narrow down malls to those with prospects for sufficient revenue in suburban areas with no large stores, taking into account the effects of rising construction costs and other factors. We will make efforts to achieve efficient growth investment in less time and at lower cost by allocating management resources to breathe new life into existing malls.
When revitalizing existing malls and opening new malls, we will focus on incorporating the new domestic demand associated with changes in the social environment, such as the aging population and declining birth rate. Compared with the young and the middle age groups, seniors tend to have a larger balance in savings and a higher percentage of individuals with a driver's license. Therefore, we will make a strong effort to develop concept zones for active seniors as the main target in addition to families, which were the main targets in the past, and build facilities where senior customers can spend time more comfortably. In addition, to take in the inbound demand that is expected to increase in the years leading up to the 2020 Summer Olympics in Tokyo, we will enhance our services for foreigners, such as foreign exchange machines and multilingual information.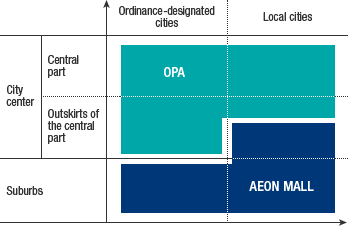 To improve such customer services, we plan to proactively use the latest information technology, such as the concierge robots and digital signage that we have currently introduced on a trial basis at AEON MALL Makuhari New City. In addition to eating and drinking establishments, we will also strengthen our ability to attract customers further by enhancing the experience-based stores and facilities for hobbies, sports, health and beauty, which only real malls can provide.
Three major metropolitan areas have a smaller rate of population decline than the national average, and in recent years there has been a noticeable trend of people returning to urban areas. Although we have developed the mall business centered on suburban shopping malls in the past, we will strengthen the urban fashion building business in the years ahead to seize new business opportunities in these city centers, leveraging the brand of OPA, a company that we made a subsidiary in March 2016. Although the fashion buildings of 21 stores currently operated by OPA include those with old equipment, they all boast optimal locations, such as being located in front of the station or directly connected to the station. We will develop them as new urban fashion buildings that propose a lifestyle for the career generation in apparel and fashionable merchandise, as well as eating and drinking establishments, by conducting the necessary replacement and renewal of equipment and using our expertise in the mall business. In addition, in and after fiscal 2017, we plan to open new OPA stores.
One initiative essential to realizing these medium- to long-term growth strategies is the strengthening of our manpower. The age structure of our employees is characterized by a large number of young personnel who have been with the company for several years, in comparison with middle age employees. Therefore, we will work to strengthen the cultivation of young employees in a focused manner to make them an operational force early on and develop their abilities. In addition, we will also develop the middle age employees into the next-generation management capable of understanding the job site from the managerial perspective through education, training, and job rotation in Japan and overseas.
Another important perspective is the promotion of diversity. Due in part to the rising percentage of overseas businesses, promoting the active participation of women and realizing greater diversity that goes beyond nationality are also important measures for the company. As part of these efforts, we will develop a framework that enables excellent local employees in China and the ASEAN region to participate in the management of the company, as well as the operation of local malls, in the future.