Special Feature 2
Domestic Report: "AEON MALL Shijonawate"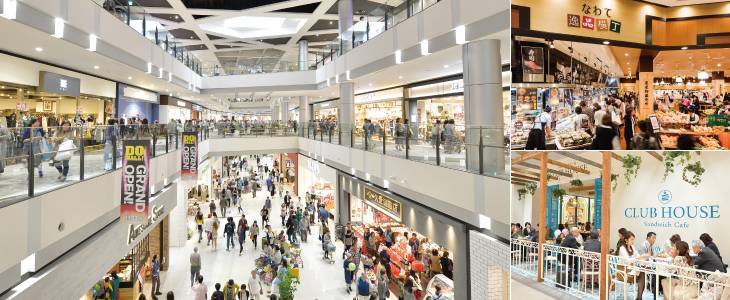 A new form of mall that uncovers urban demand
AEON MALL Shijonawate opened for business in October 2015 in the Suna and Sinke Region of the Osaka East Urban Area Project, an area that straddles the border of Shijonawate City and Neyagawa City in Osaka Prefecture. It is located in the suburbs of one of Japan's largest metropolitan areas, and has a market population of approximately 2 million people.
AEON MALL Shijonawate employs a number of different means to bring in customers. It mainly targets second-generation baby boomers with sophisticated tastes who have established their own lifestyles.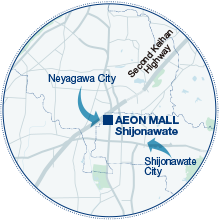 Various means that encourage grownups to visit the mall.
AEON MALL Shijonawate employs a number of novel means based on the ideas of "enjoying quality time in a relaxed manner" and "helping grownups to have fun." One example of these ideas in practice is Nawate Ippin Yokocho, a food sales zone next to the food zone on the first floor of the core store GMS. It offers a full range of special ingredients, local gems, and fine articles, and establishes a sense of synergy with GMS. Every day it is crowded with customers who come to do their shopping at the mall. The restaurant area (Mori No Restaurant) on the second floor boasts a collection of 19 restaurants perfect for any occasion, whether it be dinner or something more celebratory. These restaurants cater to the needs of people of all ages. In addition, the tenant mix tailored to the lifestyles of urban adults has made the mall more attractive to customers, employing means such as a zone in the first store area that brings together global brands, a large sports specialty store, and the first 4DX cinema complex in Osaka.
Coexisting with the local community by creating a space that incorporates local culture and nature.
One of the aims of the mall is to coexist with the local community. It actively incorporates elements of history and culture from the surrounding areas into the interior and exterior design of the facility. It also features topiary models that imitate the Horse Haniwa, which was unearthed in Shijonawate, in front of the main entrance. There are wall-paintings in the nursing room and the kids' space on each floor that depict Nawamaru-Kun, the mascot character of Shijonawate City.
In addition, we do a number of things to create personal connections between local residents and AEON MALL Shijonawate. The mall offers places where local customers can relax. There is Kusunoki Garden, where camphor trees, the city tree of Shijonawate, are planted, and Sakura Garden, which has four kinds of Japanese cherry trees, the city trees of Neyagawa. There is also the Karuta Local History Trail, an approximately 1-km walking route that circles around the site in which guideposts bearing local history karuta and haiku of Shijonawate City are placed every 30 meters.
We aim to develop an ever-evolving mall together with the local community.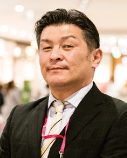 This mall is situated on the border of two cities, and prior to its opening we spent a considerable amount of time working to build close relationships with each city. We will continue our efforts to make this mall one of the top 10 in Japan, transforming it into a landmark facility in the region. At the same time, we will work to firmly respond to changes in the customer segments and customer needs in the medium to long term.