Special Feature 1
Approach to Developing New Concept Malls
Proposing an Attractive Tenant Mix
With the aging population and the declining birth rate, the diversification of lifestyles, and the ongoing spread of Internet shopping, the functions and roles that AEON MALLS in each region are expected to fulfill also continue to change. Based on a philosophy of establishing ourselves as a "Life Design Developer," AEON MALL is pursuing an attractive tenant mix that will meet a diverse array of needs of local customers by actively identifying environmental changes.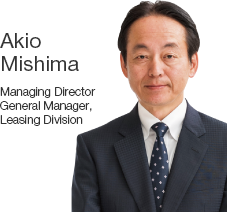 Pursuit of leasing innovation from a distinct perspective.
AEON MALL is currently promoting the enhancement of leasing from four perspectives to achieve a tenant mix tailored to the wide variety of lifestyles that local customers lead.
The first perspective entails the "discovery of prospective industry sectors." The company not only promotes further enhancement of the food area, including popular and new eating and drinking establishments and restaurants that use organic ingredients in response to growing health consciousness, but also expanding experience-based facilities where customers can spend quality time, such as field athletics and "super sento," or deluxe bathhouses. In addition, we focus our efforts on attracting tenants in great demand, such as shops selling custom-made items for good sleep that are popular among seniors.
In an effort to "approach new business categories and concept malls," we will develop zones that focus on working women, create a health and wellness vision that targets seniors, and promote the development of new business categories that explore interests such as painting and calligraphy in greater depth.
We will also put a lot of effort into the "discovery of local tenants," such as promising local stores that carry special local products and traditional crafts, etc. in order to develop a unique mall that takes advantage of regional characteristics.
At the same time, we will also focus on "attracting overseas tenants and their mutual entry" by using the strong business network unique to the company that conducts business on a global scale. For example, by recreating a unique store plan and worldview from a mall in China in Japanese malls, we will provide a world of cuisine that cannot otherwise be experienced in Japan.
The company is pressing forward with efforts to reinforce its organization structure in the leasing division to promote these initiatives quickly and effectively. The company has established a new section that will formulate leasing strategies for new and existing malls and develop new business categories in the leasing division. Also, the operations section in charge of the leasing operations at existing malls is putting a lot of effort into discovering prominent tenants in each region and supporting their operations after they open, working in cooperation with local tenants in each region and sales forces on site. We have also set up the overseas leasing department, which was a separate organization in the past, inside the leasing division to strengthen its cooperation with leasing in Japan.
Using Japan's largest tenant network as a strength.
Our partnership with approximately 8,000 tenant companies provides a great strength we can draw upon when putting these leasing strategies into practice. The company operates the AEON Association Shops Community to improve its customer service, analyze the consumption trends of customers, and promote the formulation and implementation of more active measures to attract customers in cooperation with these tenant companies. The AEON Association Shops Community is organized around the two main pillars of the regional and industry sectors, and actively promotes information sharing, joint training, and joint events among member tenants.
Thanks to interaction with this community, we are now beginning to win referrals to distinct local tenants and support the smooth opening of stores for new tenants. Moving forward, we will promote business development together with tenants through the activities of the AEON Association Shops Community, for instance by developing new brands through alliances with them and encouraging them to participate in preparing the zoning of newly developed concept malls and open their stores at overseas malls developed by the company.
The company will strive to develop shopping malls that are supported and loved by local communities and customers while valuing the relationship of trust with so many tenant companies.