Special Feature 1
Approach to Developing New Concept Malls
Proposing the Ultimate in Localization
Along with progress in the homogenization of shopping centers and intensifying competitions among malls, differentiation that reflects regional characteristics and needs of local customers is becoming an increasingly important issue that needs to be tackled. AEON MALL is working to develop malls indispensable for local communities by promoting the ultimate in localization from their standpoint.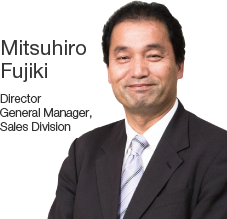 On-site mall employees who carry out projects for local communities.
Based on the management philosophy of establishing ourselves as a "Life Design Developer," a concept that we created in April 2015, AEON MALL is pursuing the ultimate in localization. AEON MALLS in different regions create a "life for the future" with people in local communities by further refining regional traits in cooperation with partners such as local governments, educational institutions, and local companies.
It is essential for the employees who actually work at regional malls to play a key role in carrying out this localization, instead of having the head office lead the way. For this reason, in fiscal 2015 we invited employees, in particular young employees, working at 143 malls managed and operated by the company in Japan to propose their own "localization projects". We carefully selected 23 projects from among the 195 applications submitted, and ran them between September and November 2015.
At AEON MALL Sakudaira, for example, we held an event to transmit the charm of "cake center Saku" in collaboration with a local group of patissiers. This event drew upon Saku City's reputation as one of the three largest cake producing towns in Japan, alongside Kobe and Jiyugaoka. The overall response to the event was positive, with customers who took part saying that it helped them to rediscover the charm of Saku and deepen their ties to the local area. At AEON MALL Niihama, we organized a large-scale disaster prevention event open to local customers. During the event, customers were given the opportunity to stay overnight at the mall and take part in emergency drills and disaster prevention education, all of which were designed to ensure that the mall can fully perform its role as a regional evacuation facility. We enlisted the help of different groups such as the local government, police station, fire department, and an organization from the Maritime Safety Agency to put on the event. Overall, the event was rated quite highly by the participants, with people indicating that they had never experienced such a full-scale drill in which the related organizations worked as one and demonstrated an incredibly high level of cooperation. We have already received multiple requests from other local governments in the surrounding area to conduct a similar event.
The company will continue its bottom-up approach to achieving the ultimate in localization by openly seeking project proposals that reflect the perspective of local communities in order to move forward with its initiatives at all malls in line with regional characteristics and needs of local communities. In fiscal 2016, we plan to collect ideas for and conduct new localization projects in which more customers and staff on site will be able to participate. We will give shape to as many localization projects as possible by establishing the "Remake Award," which aims to foster innovation by combining existing projects and the ideas we have obtained from these initiatives and changing our own perspective.
Shift from "uncovering" regional traits and appeal to "creating" new forms.
The "ultimate in localization" approach is an important concept underlying the planning and development of new malls. At AEON MALL Okinawa Rycom, we have pursued a number of initiatives to create a mall that reflects the regional characteristics of Okinawa, one of the leading resort areas in Japan. We installed a huge ornamental aquarium, hold events that incorporate Okinawan culture, and have enhanced services to better cater to the needs of tourists. AEON MALL Tokoname has been bustling with customers ever since it first opened because it was developed as an entertainment park that draws upon the diverse array of tourism resources in the area, such as the history of ceramic production in the town and its rich natural setting.
In the future, however, we believe that it will be more important for malls to become places that provide new value to local community, such as malls where senior citizens and children living in urban areas can experience nature or malls that offer the finest in comfort for women. To achieve these aims, we must dig deeper to unearth the needs of local customers, as well as reflect the regional characteristics and carefully study hidden points of appeal.
The company will continue to pursue the ultimate in localization at each AEON MALL. All the employees at the head office and those in each region will return to the basics, working to "think and take action on their own." We will accomplish the aims of medium to long-term development together with local communities by transforming AEON MALLS into points that transmit new regional appeal.