What is the status of the overseas business?
We promote the opening of dominant malls targeting the growth areas in each country to strengthen our branding and achieve competitive leasing.
We have been aggressively promoting new mall openings, positioning the overseas business in China and the ASEAN region as an important growth driver for the future. In fiscal 2015, we opened eight malls, and the total number of overseas malls reached 17 malls (as of the end of fiscal 2015).
In China, we opened six new malls in fiscal 2015 and have developed 12 malls at present. AEON MALL Wuhan Jingkai, the second mall in Hubei Province that opened in December 2015, is the largest AEON MALL in China with gross leasable area of 105,000m2. We also opened AEON MALL Suzhou Xinqu, the third mall in Jiangsu Province, in January 2016.
In China, we promote mall openings in four areas, including the Hubei area and Jiangsu and Zhejiang area, in addition to the Beijing and Tianjin area and the Guangdong area. Building a dominant mall in each area has not only helped to strengthen the branding of AEON MALL to local customers and expand our market share, but has also had a profound effect on leasing. Our policy for the ongoing development of malls and positive results in the first mall are highly valued by leading specialty stores in the region, and this has helped them open a store in the second and third malls on favorable terms in many cases. This has enabled us to build highly competitive malls.
In regard to the Chinese market, concern has been raised about slower economic growth, given that the GDP growth rate has fallen below 7%. However, we need to keep in mind that there are structural changes in the Chinese economy that are causing the slower growth in GDP. In fact, while growth in overheated real estate investment and exports decelerates, consumer spending continues to maintain steady growth of around 10% even now. Sales at specialty stores in existing AEON MALLS in China continue to grow at a higher pace than the growth in retail sales in China as a whole (up 10.7%), and the number of visitors has also maintained double-digit growth year on year. The expansion of consumer spending is a major engine for the economic policies of the Chinese government, and we believe that the further expansion of sales can be expected as the middle-class population increases in size.
Year-on-Year Changes at Existing Malls in China
| | Cumulative figures for January 2014 to December 2014 | Cumulative figures for January 2015 to December 2015 |
| --- | --- | --- |
| Sales of specialty stores at AEON MALLS*1 | 117.9% | 124.9% |
| Number of visitors to AEON MALLS*2 | 121.4% | 110.8% |
*1

Three malls for January 2014 to December 2014, and four malls for January 2015 to December 2015
(excluding AEON MALL Tianjin TEDA, which suspended business from August 2015 to December 2015)

*2

Fiscal year-end of local subsidiaries in China is December 31.
In ASEAN countries, we opened two new malls in 2015 and have now developed a total of five malls, including three malls in Vietnam, one mall in Cambodia, and one mall in Indonesia. At AEON MALL Phnom Penh, the first mall in Cambodia which opened in June 2014, we built an additional multi-story parking lot for 800 cars in July 2015 in response to the sharp increase in the number of visitors who come by car. Thanks to this endeavor, both the number of visitors and sales increased significantly, and this mall entered the black in fiscal 2015. Following this success, we have secured a site for the second mall, which is also in Phnom Penh. We plan to open the second mall in fiscal 2018 and make it different from the first by enhancing amusement and service functions.
In Indonesia, the development of new towns is moving forward at full blast in the suburbs of Jakarta in the Greater Jakarta area, which has a population of 30 million people. AEON MALL BSD CITY, the first mall in Indonesia that opened in May 2015, is located in a district that attracts attention as one of the new town development projects. Currently, several properties are listed up as candidates for a mall in the same suburbs of Jakarta. We plan to open one mall in fiscal 2017 and two malls in fiscal 2018.
In Vietnam where we have developed three malls, including AEON MALL Long Bien which opened in Hanoi in October 2015, AEON Co., Ltd. concluded a comprehensive memorandum with Ho Chi Minh City in March 2016 on the investment and business promotion of the AEON Group companies in the City. In July 2016, we opened AEON MALL Binh Tan, the fourth mall in Vietnam. We will continue to promote new mall openings in Ho Chi Minh City, taking advantage of our cooperative relationship with the City, and consider new mall openings in Hanoi as well.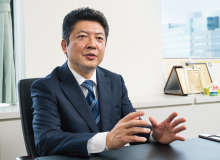 To strengthen the foundation for the overseas business, we focus on cultivating the reinforcement of local employees and the localization of operation. The strengths of AEON MALL in China and the ASEAN markets lie in the attractive industry structure of malls in the development of concept zones, facilities that pay special attention to cleanness, safety, and the environment, and operation by local employees with Japanese-style hospitality skills. To firmly establish these differentiating elements as the culture of AEOM Mall, it is important to foster individuals from among local employees capable of becoming executives in the future, and leaving the operation of the mall to them.
In China, where we have been developing the mall business since 2008, there are already four malls that are operated by only local employees. Although our approach used to be handing off operation to local staff after Japanese employees set things on track, we will leave the opening of a new mall entirely to Chinese employees in fiscal 2016 as the next step of localization. In ASEAN countries as well, we intend to gradually promote the localization of operation in step with the situation of each mall.
We also put our efforts into strengthening the personnel development system and the development of career programs for local employees, as well as the localization of operation. In China and the ASEAN region, career options are expanding widely along with economic development. Therefore, we intend to secure excellent employees and raise their motivation by clearly demonstrating the future vision that if local employees put forward the effort and achieve results, they will be able to hold important positions in AEON MALL.