CSR Activities
To continue sustainable development together with society,
we are working to build good relations with our stakeholders.
Basic Stance
We continue to fulfill our social responsibility based on the "five pillars" in line with ISO 26000.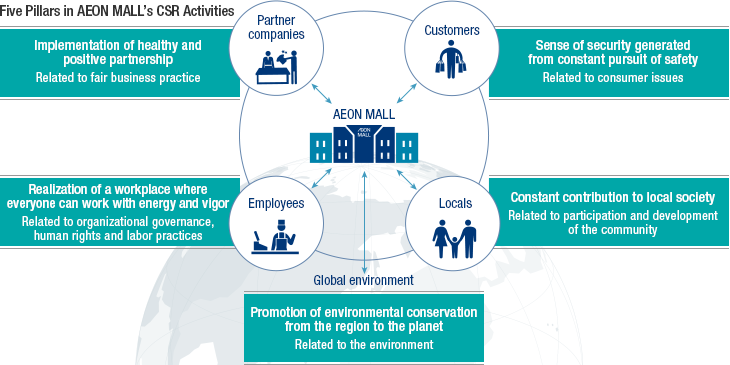 Our management philosophy of "AEON MALL is a life design developer that works with communities and produces ways of living for the future" applies not only to our business activities, but also to our CSR activities. On the basis of this stance, we are carrying out CSR activities with the five pillars shown in the diagram, taking into account ISO 26000, an international standard on social responsibility, and relationships with various stakeholders.
We will maintain our sustainable growth together with local residents by carrying on these five activities.


CSR Promotion System
We understand that we have a social responsibility to develop shopping malls that coexist in harmony with the environment and with communities, and that our fulfillment of this responsibility leads to continuous growth of shopping malls in local communities. Advancing our policy on corporate activities in social, environmental and ethical aspects, AEON MALL CSR Council holds monthly meetings chaired by the president and CEO to manage the progress of CSR activities and make swift decisions to resolve any issues. For individual issues related to social, environmental and ethical aspects, dedicated committees are set up to promote activities.