Special Feature 2
ASEAN Report: "AEON MALL Long Bien"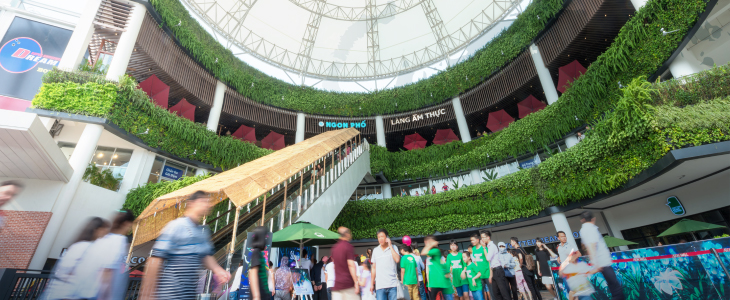 Unexplored region for foreign capital
Potential exploited in Hanoi
Well-dressed customers enjoy shopping.
At AEON MALL Long Bien, which opened as the third mall in Vietnam in a new residential area in the suburbs of Hanoi, customers come to the mall to look for high-quality products and services and extraordinary time.
They present a sharp contrast to the casually dressed customers that fill the mall in Ho Chi Minh City.
The number of visitors to AEON MALL Long Bien in the first month after it opened was 2.12 million.
Even now it remains awash with an enthusiastic bustle.
Japanese-style hospitality that brings a smile to Vietnamese customers.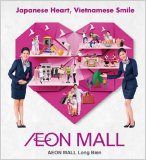 Based on the concept of "Japanese Heart, Vietnamese Smile," AEON MALL Long Bien sets itself apart from competitors by providing high-quality Japan-level services in all aspects, from the selection of products to customer service and clean restrooms.
Compared with open-minded citizens in Ho Chi Minh City, customers in Hanoi tend to purchase goods only in trustworthy shops. However, because the brand value of "Japan" is high in Vietnam, the arrangement of zones featuring Japan and Japan-related events are very popular. In addition, a number of Japanese tenants such as AEON Fivi, a supermarket in alliance with local capital, have opened stores. This type of mall development is highly valued by the local government, and the mall was commended as an excellent project at the Hanoi City Party Convention. It received an award for being the only commercial facility operated by foreign capital.
Offering extraordinary time through experience-based mall development.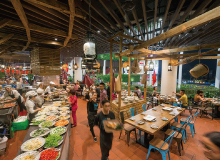 Another feature is the development of an experience-based mall with fulfilling entertainment and eating and drinking facilities. The mall provides customers in Hanoi who still do not have many entertainment options with a highly satisfactory extraordinary time.
For example, Mirror Maze, a haunted house that is very popular among junior high and high school students, has recorded sales that are more than five times the plan. In light of the experiences with the first and second malls in Vietnam, food and drink zones have also been developed with different themes for each floor so that customers can use them in a way that fits their purpose. In particular, Vietnam Food Court, which recreates the back streets of good old Hanoi, is really popular. Customers spend an average of more than 150 minutes in the mall. We will continue to develop it further as a place where customers can have fun all day.
I want to increase our presence as a partner of Japanese companies that have entered Vietnam.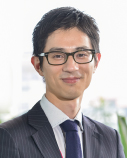 Because AEON MALL has already developed multiple malls in Vietnam, which has strict regulations on foreign-affiliated companies entering its market, more and more Japanese companies are visiting the mall and making requests to open stores. We will continue to boost our presence and competitiveness in Vietnam by building a win-win relationship with these companies.