Special Feature 2
Domestic Report: "AEON MALL Tokoname"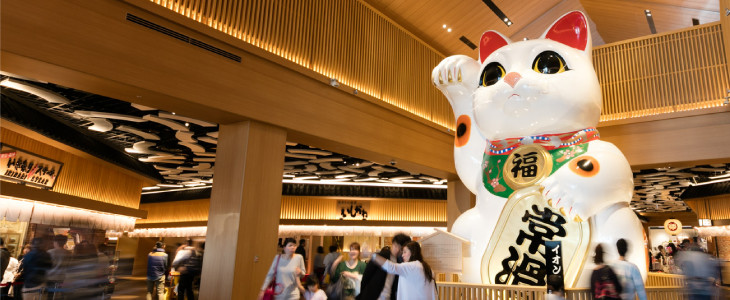 Developing Local Attractions Together with the Local Community
AEON MALL Tokoname, which was developed on a vast site of approximately 202,000 square meters, faces Chubu Centrair International Airport on the opposite shore. Working together with local government offices and companies, it presents local attractions to Japanese customers and those from other countries in an integrated manner. The beckoning cat, which is representative of Tokoname ware, is the main icon of this mall.
The idea of developing malls into experience-based facilities where customers can have many hours of fun is gaining in popularity. Thanks to this approach, the mall enjoyed strong business performance of 120% of the plan for the first three months after it opened, attracting customers from a wider than expected range of areas, including Nagoya City and other prefectures.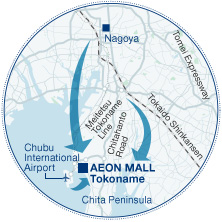 Focusing on creating local appeal with items such as Tokoname ware, a product of one of the oldest ceramic production areas in Japan.
Tokoname City is a town known for producing ceramics called Tokoname ware. It is one of the six oldest ceramic production areas in Japan. It is also the largest production area of Tokoname Manekineko (beckoning cat), which holds an oval gold coin, so the mall uses this cat as its main icon in presenting different forms of appeal to draw in customers. The huge monument standing 7 m tall in the center of Tokoname Norengai, the restaurant area on the first floor, has had a major impact. Taking a commemorative photo in front of this monument has been a kind of tradition ever since the mall opened, and has helped make more people aware of the mall through SNS and other media.
The mall has worked together with the local community to develop a variety of initiatives, such as Manekineko Street, where about 50 large and small manekinekos stand side by side, the Manekineko Festival, and Tokoname Ware Fair. In addition, in the integrated CAT Project promoted by Centrair (C), AEON MALL (A), and Tokoname City (T), the three parties are carrying forward ongoing initiatives in a unified fashion to help enhance the appeal of Tokoname and the Rinku area. The first of these is the free shuttle bus that connects Chubu International Airport and AEON MALL. It is already up and running, and has been well received by customers and tourists from different parts of Japan and other countries.
Offering hospitality to Japanese and international customers with a variety of experiences.
Another major feature of the mall is Wonder Forest CURIO, a vast entertainment park situated next to the artificial Rinku Beach. Visitors spend an average of 145 minutes in the park, thanks to the variety of activities it offers. There is a full-fledged cart circuit that runs a total length of 600 meters, a BBQ field where visitors can easily enjoy barbecued food while they're shopping, field athletics, the Wonder Rink, which serves as a swimming pool in the summer and ice skating rink in the winter, and the Tokoname Onsen Mago no Yu, which features an outdoor hot spring bath.
In addition, because the mall is located right next to an international airport, it offers a full range of services and systems for inbound tourism, such as a smart tax-free counter, foreign exchange machines, and multilingual information. We plan to focus more energy on outbound tourism as well in the years to come and transmit the charm of Tokoname and Aichi Prefecture to the rest of the world.
Tackling urban development that can only be promoted here, working in line with the "glocal" concept.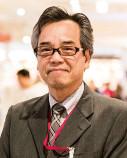 In developing the mall, we sought to achieve a style of urban development that could only be promoted here, and were fully conscious of the Tokoname color as we worked in close cooperation with the prefectural and local governments. Driven by the glocal (global + local) concept, we want to continue growing together with the local community in this area, which possesses the largest potential in Aichi Prefecture.