Sustainability
AEON MALL Materiality

Materiality Map
AEON MALL uses materiality analysis to identify factors that have a significant influence on value creation over the medium and long term.
We intend to design strategies and policies to address these factors and set key performance indicators to measure execution in the future.
Materiality Matrix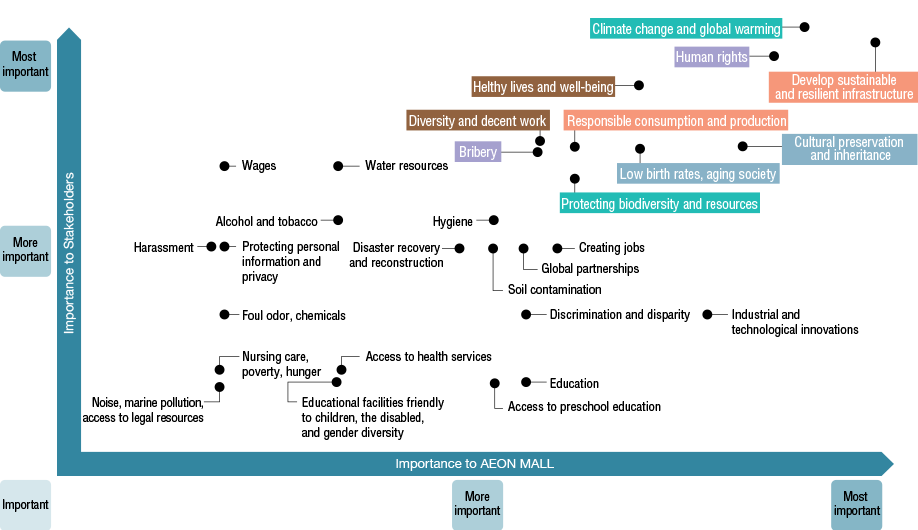 The Materiality Analysis Process
We identified relevant social issues by referencing sources including DJSI*1, FTSE*2, GRI, generally accepted industry issues, etc.
The AEON MALL Group defined 34 topics related to our business in Japan and overseas, reflecting SDGs and issues specific to Japanese society.
Sustainability stock index selected by S&P Down Jones Indices (U.S.) and RobecoSAM (Switzerland)
Based in London, the FTSE calculates and manages stock indices.
Step 2
Importance to Stakeholders
We used the SASB* and other guidelines, as well as categories used by ESG benchmarking organizations, to assess importance to stakeholders.
U.S.-based Sustainability Accounting Standards Board
Step 3
Importance to AEON MALL
We used our management philosophy and mediumterm management plan to ascertain the importance of these topics to AEON MALL.
Finally, we confirmed the relevance (materiality analysis process and results) of these topics from the standpoint of our outside independent directors and in consideration of the unique AEON MALL business model. We revised group-wide materiality based on these opinions, and then confirmed the topics in a meeting of the CSR Council*.
AEON MALL engages in business localized to the communities we serve, and we believe solving community social issues is part of our mission as a business. The AEON MALL CSR Council, chaired by the president of our company, meets monthly to ensure we make progress toward our ideal of Creating Shared Value (CSV), conducting business integrated with the principles of CSR. The council discusses details and progress related to four materialities, represented by E (environment), S (social), G (governance), and C (communication).
AEON MALL's Value Creation Model
AEON MALL creates value through three approaches to business development, strengthening our foundation of value creation as we work toward our 2025 long-term vision. We leverage the comprehensive advantages we have built as a commercial developer with experience in everything from shopping mall development to mall management and operations.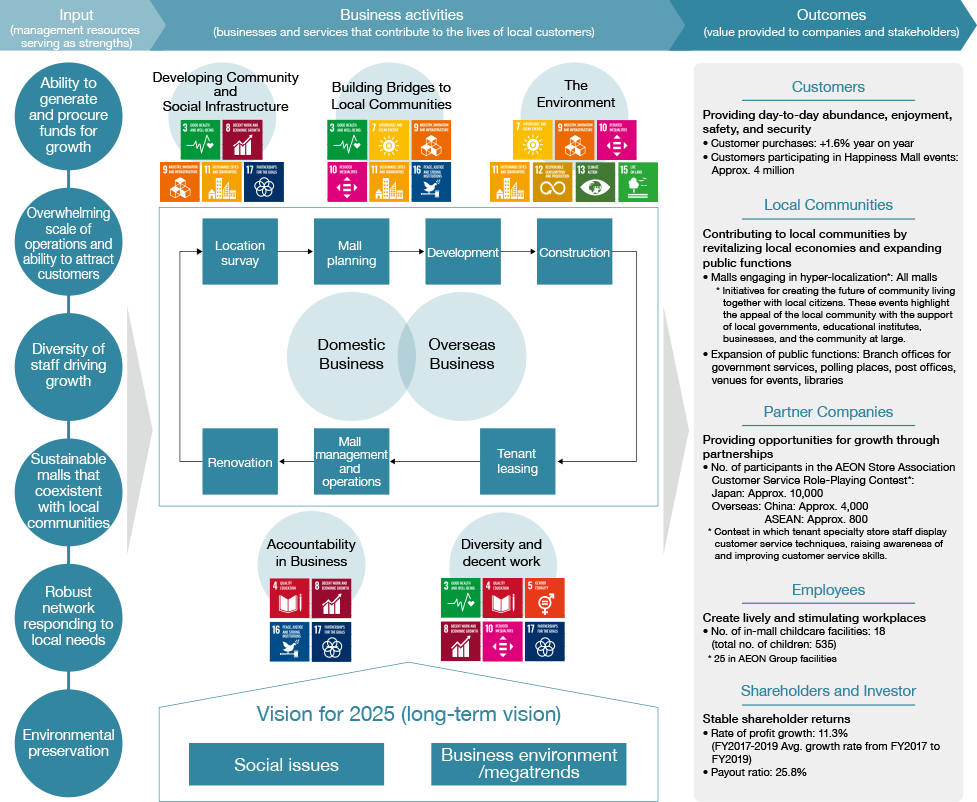 Set the subjects that AEON MALL should work on
In order to provide real values to all stakeholders, we will strive to solve various social issues through our corporate activities.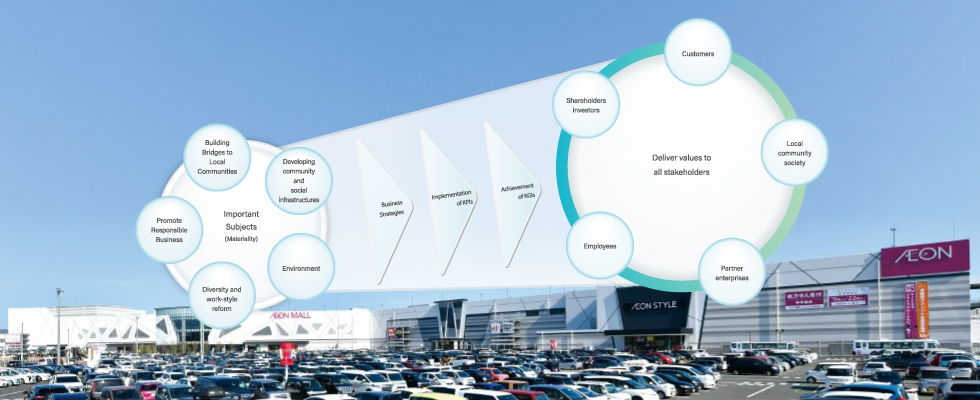 *Scroll horizontally for more information
Link
Important Subjects
(Materiality)
Ideal form of our Company
for 2030 (KPIs)
Ideal form of our Company
for 2050 (KGIs)
Building Bridges to Local Communities
Cultural preservation and inheritance
Actively hold traditional and cultural activities and promote these to other regions including outside of Japan
A society with cultural inheritance platforms established
Low birth rates and aging society
(1) Enrich services for children
(2) Number of nursing staff for people with dementia
A society in which everyone, including children and seniors, lives a comfortable life
Developing community and social infrastructures
Developing sustainable and resilient infrastructures

(1) As an initiative to strengthen the BCP system, make all malls in Japan bases for disaster prevention

(2) Proportion of malls that have signed disaster prevention agreements with local governing bodies

A society in which local residents constantly feel safe and secure
Production and Consumption Formats

(1) Promotion ethical consumption green purchasing rate

(2) Promote the deplasticization initiative

A society in which environmental impact is reduced to infinitely close to zero through reasonable production and consumption
Environment
Climate change and global warming

(1) Expand the coverage of EV charger stations, number of installed EV charger stations

(2) 35% reduction of annual CO2 emissions by producing renewable energy

(3) Strengthen environmental protection education among local residents and specialty stores

(4) 100% acquisition rate of eco Certificate

(1) A decarbonized society
(2) A society in which the whole community is committed to protecting the environment
Protecting biodiversity and resources

(1) Number of ABINC (Association for Business Innovation in Harmony with Nature and Community) certified malls

(2) Achieve a recycling rate of 70%

*Except thermal recycling

A society that attaches importance to environmental protection and coexists in harmony with the nature
Diversity and work-style reform
Health and welfare
Provide healthy lifestyles
A society in which all people maintain physical and mental health
Diversity and work styles

(1) Proportion of female management personnel

(2) Male employees' parental leave acquisition rate 100%

(3) Promote training of globally active talents

A society in which everyone is given equal opportunities, regardless of race, nationality, age, gender or location
Promote Responsible Business
Human rights

(1) Set and introduce human rights due diligence process

(2) 100% employees receive human rights education and training

A society in which all people's human rights are respected
Bribery

(1) Conduct bribery education and enlightenment aiming for observance of basic anti-bribery regulations

(2) Continuous abidance by anti-bribery regulations under employment regulations

(3) Continuous reassessment of the abidance institutions of basic anti-bribery regulations, and thorough carry-out of reporting the abidance status of the basic anti-bribery regulations to the President at least once a year and relevant correction

0 incidents