Special Project: Round-Table Talk with Outside Officers
Achieving sustainable growth and the higher corporate value by reflecting a diverse range of value in management
Challenges in boosting corporate value
Creating a new business model by actively employing a wide range of employees.
--Finally, what do you think of the challenges AEON MALL needs to address to enhance its corporate value in the years ahead?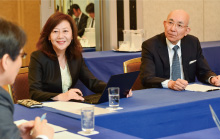 Taira:The issue that concerns me the most is people. The greatest strength of AEON MALL is that it places importance on the customer's vantage point. This emphasis permeates every facet of AEON MALL's business operations as a developer with roots in a retail business. However, because the business scale is expanding rapidly, I am worried that AEON MALL might not be able to pass on its DNA to future generations. If that happens, it will become no different than any other ordinary developer. Thus, I would like to see the company cultivate individuals with a broad spectrum of knowledge and diverse range of views by actively exchanging personnel with AEON Group companies such as AEON Retail and AEON Financial Service, for example.
Kawabata:In addition to fostering and training employees, I think there is also a need to strengthen the department responsible for management strategies. While it currently examines business strategies on a daily basis, I think that it needs to more seriously consider medium- to long-term growth strategies. The business environment is changing drastically, so it needs to determine whether the company can grow sustainably with the business model that acts as an extension of the past model, or whether it may be the time to create a new business model.
Ichige:I want the company to become more diverse. I think the company needs to actively incorporate a diverse range of values within its management because the lifestyles of customers and the business categories of tenants are diversifying at a tremendous pace. Although the company is rated highly for promoting diversity, such as becoming the first company headquartered in Chiba Prefecture to be certified as an excellent company under the Act of Promotion of Women's Participation and Advancement in the Workplace, I want the company to continue incorporating the views of female employees within management and increase the number of female managers. I also believe that the company will be able to make management decisions that better reflect more diverse values by setting a means for gathering feedback from excellent local personnel who play an active role overseas, and apply this feedback to decision-making in Japan.
Muramatsu:I was only appointed Audit & Supervisory Board member recently, and so I really can't talk about the business specifics, but I have learned a lot by listening to everyone speak here today. I will work together with you to fulfill my duties as an outside Audit & Supervisory Board member.
Suzuki:Thank you very much for the fascinating conversation today. All of us here are committed to enhancing the corporate value of AEON MALL by continuing to present our thoughts directly to the executives.