CSR Activities
Implementing environmental conservation, both regionally and globally

We promote town development in harmony with nature by implementing energy-saving and waste control policies. To this end, we introduce the latest technologies to minimize the environmental load and create ways to protect the local ecology.
Towards advanced eco-malls
Operation of Smart AEON
Smart AEON represents the next-generation of eco stores that improve energy efficiency and implement disaster control across the town. It is a new model of commercial facilities that supports a form of sustainable town development that meets the standards specified by AEON Eco Project, which expresses the environmental goals of the AEON Group. We are developing Smart AEON at 10 malls operated by the company, including AEON MALL Sakai Teppocho that opened in March 2016.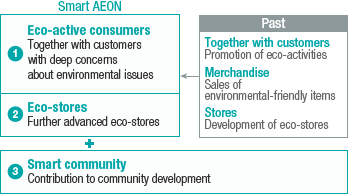 Increasing installation of battery chargers for electric vehicles (EV)
In an effort to preserve the global environment and bring about a sustainable society, we are installing more electric vehicle chargers at AEON MALLS to help increase the use of electric vehicles that emit no carbon dioxide as well as plug-in hybrid vehicles. Many customers use these chargers. As of April 1, 2016, we have built a network of 193 electric vehicle charging stations, together with the commercial facilities of other AEON Group companies. We are also working to build a system for charging the station fees, using our electronic money "WAON" to offer a more stable service as a social infrastructure.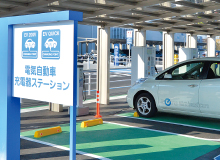 Promoting the use of public transportation systems
AEON MALL is developing an environment that enables customers to use public transportation system, such as train and bus, to visit its malls. For malls within walking distance of the station, we are creating an environment that facilitates the use of public transportation systems, cooperating with railway companies and transportation authorities to provide customers visiting the mall by train with special benefits.
Continued activities for AEON Hometown Forests Program
We have been implementing AEON Hometown Forests Program since it started in Malaysia in 1991. When a new AEON MALL is opened, we plant seedlings of trees that grow naturally at the location, as it is best suited to the local natural environment, together with our customers. As of the end of February 2016, the total number of trees that have been planted reached approximately 11,200,000 (AEON Group total).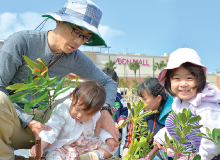 Environmental activities with the use of natural energy
Solar power generation
We are introducing solar power generation systems ahead of other commercial facilities. These systems have been installed in AEON MALLS in Japan and overseas to cover part of their power demand. Some malls have adopted a system capable of using electricity generated by solar panels during power blackouts caused by natural disasters or other catastrophes.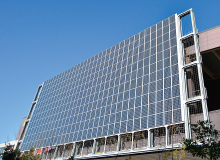 Wall greening and planting
Greening on the wall surfaces of shopping malls not only improves the scenery, but also helps suppress the rise in indoor temperatures during summer to reduce the amount of energy consumed by air conditioning. AEON MALL Okayama has created Haremachi Garden, which is composed of step gardens on the open-top space from the fifth to the seventh floors, to provide customers with a green space where they can relax.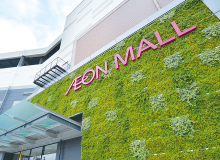 Day-to-day activities at individual shopping malls
Energy-saving efforts
We are replacing lights in AEON MALLS with more energy-efficient and longer lasting LEDs. They are used for 100% of the lighting in the communal areas of malls that have opened in recent years. LEDs are also used as the light source units for outdoor illumination signs.
In addition, AEON MALLS have introduced advanced energy-saving technologies such as ice thermal storage systems, which store ice by using night-time electricity and use it for air-cooling during business hours, and air-conditioning cold water cascade systems, which consist of multiple air-conditioning machines positioned in cascade to boost air-conditioning efficiency.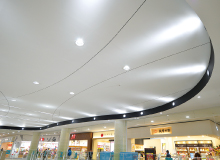 Recycling and reducing waste
To reduce the waste malls generate, each mall has introduced a system in which mall tenants cooperate to separate waste into 17 categories and weigh it accordingly. After weighing the waste of each category, the specialty stores paste a sticker indicating the weight of the waste and collectively dispose of it at the specified storage place for each category. We keep track of the recycling rate for each category. For fiscal 2015, the recycling rate increased from 84.3% in fiscal 2014 to 86.6%.
Environmental communication
Reducing the environmental load at each mall not only requires the efforts of the company, but also the understanding and cooperation of the tenants and customers. Therefore, we have distributed booklets and placed notices on the backyard bulletins asking the staff of tenants to cooperate. In addition, we introduce our environmental activities inside malls through Eco-Information and Eco-Bench, and ask customers to carry reusable shopping bags and cooperate with recycling efforts.
Our environmental efforts are highly regarded in many quarters.
Acquired the "Green Star" in the GRESB Assessment
In the Global Real Estate Sustainability Benchmark (GRESB), an international benchmark for measuring the sustainability of real estate companies and investment institutions, the company placed 16th (out of 92 companies) in the Asian region in 2015 and 126th (out of 688 companies) worldwide. We have now acquired the "Green Star" – the highest award – as a company that makes excellent efforts in both the formulation/disclosure and execution/measurement of environment policy.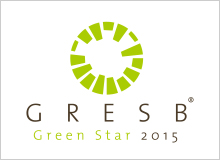 Received the "Osaka Stop Global Warming Award"
In March 2015, we received an award of excellence in the "Global Warming Measures Category" of the "Osaka Stop Global Warming Award" that is sponsored by the Osaka Prefectural Government's Environment, Agriculture, Forestry and Fisheries Department for our efforts to reduce greenhouse gas emissions produced by the five malls we directly manage in the prefecture. This award recognizes business operators who are doing an excellent job of promoting and encouraging measures to prevent global warming, alleviate the heat island phenomenon, and level out demand for electricity.
Three new malls acquired the ABINC certification
Three malls that opened in and after October 2015—AEON MALL Shijonawate, AEON MALL Tokoname, and AEON MALL Sakai Teppocho— successfully acquired the "Association for Business Innovation in Harmony with Nature and Community (ABINC)" certification. This certification is based on the Japan Business Initiatives for Biodiversity (JBIB) Guidelines created and registered by JBIB. Recipients of this certification are objectively evaluated and certified by the ABINC for their efforts in creating biodiversity-friendly green areas. AEON MALL Toin (in 2013) and AEON MALL Tamadaira Woods (in 2014) have also acquired the certification in the past.