CSR Activities
Realization of a workplace where everyone can work with energy and vigor
We respect human rights and strive to build organizations and workplaces where all employees can contribute to the company's growth and fully apply their abilities, regardless of gender and nationality.
Becoming a company that allows diverse human resources to display their potential
The number of employees has risen significantly over the past few years due to the expansion of mall openings. We will focus more on creating an environment where individuals from various backgrounds can work based on shared values, regardless of their nationality and gender.
Employee Data

(as of February 29, 2016)
FY 2014
FY 2015
Number of employees
(including the number of temporary workers)
3,334
(1,310)
3,683
(1,370)
New employees
(male/female)
82
(34 / 48)
84
(36 / 48)
Employees who have received childcare leave
(of which male)
18
(1)
19
(1)
Promoting the globalization of human resources
At AEON MALLS operating overseas, our policy is to put local staff in charge of helping our philosophy take root in local communities in a way that is adapted to the respective languages and customs of each country. At the local subsidiaries and AEON MALLS established in China and ASEAN countries, approximately 780 local workers play active roles as members of the AEON Group. We are giving them opportunities for exchange and to interact with others, such as short-term training sessions at AEON MALLS in Japan.
Local subsidiary staff

(as of March 31, 2016)
| | |
| --- | --- |
| China | 457 |
| Cambodia | 62 |
| Vietnam | 161 |
| Indonesia | 97 |
| Total | 777 |
Providing training about LGBT issues
We launched a new LGBT program in fiscal 2015 in the "AEON Code of Conduct Training" that the AEON Group implements each year. Workers deepened their understanding of LGBT issues by attending the training session and discussing the way things should be at the workplace. Through the AEON Code of Conduct Training, we are striving to create workplaces where all employees are able to continue working in a vibrant manner.
Promoting efforts under the "global framework agreement"
The "global framework agreement" is an arrangement to set a framework for companies to share the principles of labor, human rights, and the environment with workers and put them into practice. In 2014, AEON Co., Ltd. concluded a "global framework agreement" with the Federation of AEON Group Workers' Unions, as well as UNI Global Union and UA ZENSEN, industry labor organizations in which the Federation of AEON Group Workers' Unions is a member. This was the third time this agreement has been concluded in Japan. The details of this agreement include respect for the eight core conventions of the International Labour Organization (ILO), which incorporate agreements relating to the minimum age of employment, workplace health and safety, and the working environment. Working together with these parties, we are pursuing initiatives related to labor, human rights, and the environment in Japan and other countries, along with the details of this agreement.
Efforts to promote the active participation of women
Past efforts (FY2005 – FY2015)
We were among the first to make efforts to promote diversity in fiscal 2005. We prepared the "Minnade Kosodate Sukusuku Guidebook (universal guidebook for healthy child-raising)" to actively make efforts to create a better working environment through measures such as shortening regular work hours and creating a system to facilitate the use of childcare leave. In fiscal 2007, we were certified by the Ministry of Health, Labour and Welfare as a company that puts "Kurumin" child-raising support initiatives into practice.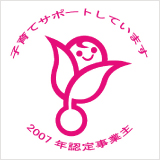 Major efforts
FY2012: Established the Women Success Promotion Committee in collaboration with labor and management.
We held this committee for female employees five times and discussed issues involving the work of women.
FY2013: Conducted a questionnaire to assess the current status.
In response to the opinions voiced by female employees, such as the lack of a female role model or female executive to look up to, we held a career-building meeting three times to raise the awareness of female employees and review the system.
FY2014 – FY2015: Conducted career training and management training sessions.
Working in cooperation with the AEON Group, we held career training for young female employees, and management training for candidates for managerial posts and all female employees who currently hold managerial posts.

FY2016: Acquired the Level 3 "Eruboshi Certification."
The Eruboshi company certification is a system established by the Minister of Health, Labour and Welfare to recognize companies that have met the criteria set under the Act on Promotion of Women's Participation and Advancement in the Workplace and have exhibited superior performance. The Eruboshi certification has three levels based on the number of criteria satisfied. The company received the highest Eruboshi ranking of Level 3.
Childcare and nursing-care support systems
System accompanied by legal obligation
Criteria of the company
Legal obligation
Childcare leave system
Employees who have a child less than 3 years old
Employees who have a child less than 1 year old
Childcare working system
Employees who have a child under junior high school age
Employees who have a child less than 3 years old
Nursing-care leave system
A total of one year per subject family member
A total of 93 days per subject family member
Nursing-care working system
A total of two years per subject family member
A total of 93 days per subject family member
Our own system
Content
Re-entry system
An employee who has applied for registration in this system when he/she resigns will be able to apply to come back to work whenever he/she wishes to return.
Switching system
A community employee (not accompanied by move and relocation) is able to change to a career employee (accompanied by move and relocation) by submitting an application.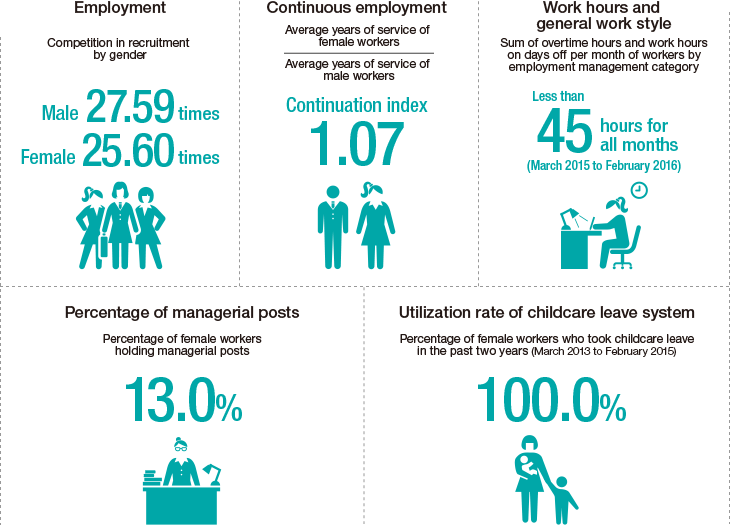 Expansion of AEON Yume-Mirai Nursery Schools
Nursing-related specialty stores have opened at approximately 60 locations among the malls run by the company across Japan. The facilities that satisfy the conditions described below are run as AEON Yume-Mirai Nursery School, a nursery facility for employees. Currently, the school is run at four malls: AEON MALL Makuhari New City, AEON MALL Okinawa Rycom, AEON MALL Tokoname, and AEON Lake Town. The school in Makuhari New City is directly managed by the AEON Group, while a school opening contract has been concluded with the operators at other malls.
In addition, facilities that have acquired a license open more than 20% of their enrollment limit to local residents, helping to reduce the number of children on the waiting-list.
Selection criteria for AEON Yume-Mirai Nursery School
1) The school must have a quota for workers in the AEON Group.
2) The school must be open every day, including holidays, in accordance with the business hours of the mall as a general rule.
3) The school must accept pre-school children from the age of 0.
4) The school must be accredited or be run in accordance with accredited standards