CSR Activities
Sense of security generated from constant pursuit of safety

We promote town development by providing various forms of safety measures to people connected to our operations. Our mission is to offer a sense of security to all people who come to visit our malls.
Ensuring safety and security during disasters
As AEON MALLS, we, including tenant employees, regularly carry out disaster drills in preparation for disasters so that we can secure costumers' safety. The majority of AEON MALLS in Japan have signed agreements with local governments on cooperation in disaster control activities, and the company is acquiring functions as a disaster control base of the communities such as by setting up sources of drinking water, portable toilets, and large tents called balloon shelters for emergency evacuation, etc. We are also working to make AEON MALLS more resistant to earthquakes.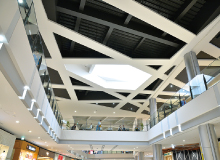 Evolving universal design
We adopted full-scale universal design in 2005 ahead of other commercial facilities, and have developed and implemented our original AEON MALL Universal Design Guidelines at each AEON MALL. We are making efforts to develop shopping malls where all customers, including disabled people, pregnant women, and foreign customers, can feel safe and comfortable.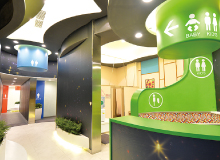 Food hygiene management
We consider food hygiene management to be one of the most important factors in enabling all of our customers to enjoy their food free of worry. We have established a wide and unique range of strict rules on the handling of food, date/temperature management, hygiene management in the workplace, health management of workers, and more. In addition, we periodically carry out food hygiene inspections at all the eating and drinking establishments.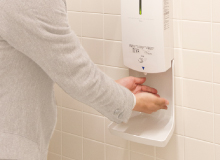 Activities to eliminate antisocial forces are commended.
We are moving forward with efforts to eliminate antisocial forces by setting forth provisions to eliminate antisocial forces in the tenant agreements for opening stores at our malls (see P. 63 for details).
In recognition of their proactive efforts, AEON MALL and AEON MALL Okinawa Rycom received a commendation certificate from the chairman emeritus (governor of Okinawa Prefecture) of the Bouryokudan Tsuiho Okinawa Kenmin Kaigi (Okinawa Prefectural Citizen Committee Against Organized Crime Groups) at the Bouryokudan Kaimetsu Naha Shimin Kekki Taikai (Naha Citizen Rally to Eliminate Organized Crime Groups) of the 24th Bouryokudan Tsuiho Okinawa Kenmin Taikai (Okinawa Prefectural Citizen Protest Against Organized Crime Groups) on November 16, 2015.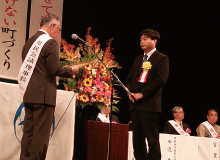 Report on our response to the explosion accident that occurred in the Binhai New Area of Tianjin
A large-scale explosion accident occurred in the Binhai New Area, two kilometers away from AEON MALL Tianjin TEDA in Tianjin City, at around 11 p.m. on August 12, 2015.
Receiving an emergency call from the custodian immediately after the accident, company staff members rushed to the scene to confirm the safety of employees, check for damage, and take measures to prevent theft, such as boarding up the mall. On August 15, the president of AEON MALL arrived at the mall and decided to withdraw temporarily in light of the conflicting information about the area. Subsequently, AEON MALL Tianjin TEDA resumed restoration work on September 1 when the restricted area designation was removed. From September 20 and all through October, the AEON supermarket was re-opened in a phased manner, and operations for the entire mall resumed on November 1, 81 days after the accident.
When restoring operation, the mall drew upon the lessons learned from the Great East Japan Earthquake. It adopted a basic approach in which safety comes first, convenience comes second, and appearance comes third. It gave first priority to restoring the fire-fighting equipment, opening the mall after confirming safety was ensured despite the minor inconveniences, and then finally fixed up the appearance. We also gave consideration to sustaining the morale of employees by asking them to use this opportunity to refurbish areas that had aged, and worked to show the public how the mall had been reborn.
Although it is impossible to predict accidents like this beforehand, we feel that we were able to restore the mall quickly, thanks to the cooperation of the government and the tenant owners. We will make efforts to take the proper measures when an accident or a disaster occurs, and think about what we can do now for the local residents to whom we are indebted.