CSR Activities
Implementation of healthy and positive partnerships

Following universally ethical practices, we will continue to build sound and more solid cooperative relationships with our partners, and at the same time take into account the business practices of various countries.
Enhancing support for specialty stores
We consider tenants at AEON MALLS to be important partners, and have established "AEON Association Shops Community" consisting of 8,000 companies that have opened stores at our malls. Through this association, we aim to grow together and work to achieve a common goal. AEON Association Shops Community engages in wide-ranging activities, such as sharing information among tenant companies, joint human resource development, the issuing of bulletins, and website operation. It also takes part in other PR activities and social contribution activities.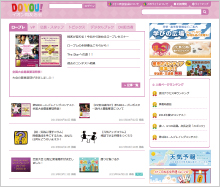 Providing a comfortable work environment
We strive to provide a comfortable work environment for the employees of AEON MALL tenants. We have set up boxes in which tenant employees can submit questions and opinions, and are gradually increasing the number of malls that have resting spaces, convenience stores, powder rooms, and other facilities exclusively for employees.
Holding contests for employees
Role-playing contest
The Nationwide Role-Playing Contest of the AEON Association Shops Community, the largest contest of its kind in Japan, was held at the Tokyo Dome City Hall on November 5, 2015. It helps the employees of about 28,000 stores across Japan who represent the AEON Association Shops Community improve their customer-service skills. This was the fifth time the contest was held, and seven employees who demonstrated particularly excellent skills were commended.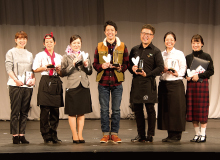 VP Contest
To practice creating more attractive sales floors, we also hold a VP (Visual Presentation) Contest every year. Separated into the "POP category" and the "Display category," applications with photographs are submitted from the member stores of the AEON Association Shops Community nationwide. Award winning shops and stores, which were determined by VP experts, are introduced along with comments and explanations in the bulletin "DO YOU!" and on the website with the all members of the AEON Association Shops Community. This information is used as a reference by shops and stores in creating their sales floors.