CSR Activities
Continuous contribution to the local community

We maintain close contact with local communities to share and solve issues through exchange, thereby making the real contribution that local residents seek.
Revitalizing local economies by opening malls
Opening a new shopping mall creates several thousand stable jobs, increases tax revenue, and promotes population growth in the surrounding area. AEON MALL invites approximately one third of the specialty stores as mall tenants from neighboring areas to stimulate the local economy, and outsources various operations such as cleaning and distribution to local companies to share the economic effects on a wider scale.
Expansion of public services
AEON MALL sets up various public services inside its malls that customers can use when they go shopping, such as post offices, medical facilities, local government offices, banks, and money exchange machines. It also provides a multipurpose hall "AEON Hall" as a venue for coming-of-age ceremonies, collective final return filing, voting in elections, and other local public events.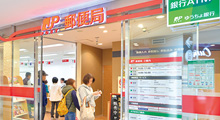 Clean & Green activities
As part of the "Clean & Green" activities carried out by the AEON Group since 1991, we clean sidewalks, parks, roadside tree areas, and other areas around the malls with the employees of mall tenants on AEON Day, which is the 11th of each month.
Donation activities
As the base for social contribution activities, we ask customers who visit our malls for their cooperation in our donation activities. Each year we gain the understanding and support of our customers.
Results of donation activities in FY2015 (Total of all AEON MALLs in Japan)
Activities
Period
Total Amount Collected
Tohoku Restoration Support
Sky Station Construction Support Fund
March 1 to March 29, 2015
2,372,111 yen
Nepal Earthquake Emergency Restoration Support Fund-raising
April 28 to May 10, 2015
5,952,465 yen
Myanmar school construction
support fund-raising
April 4 to June 7, 2015
6,548,762 yen
24-hour TV program charity fund-raising
June 10 to August 30, 2015
30,555,301 yen
Kanto/Tohoku District Torrential Rain Damage Emergency Support Fund-raising
September 11 to September 30, 2015
7,931,026 yen
AEON/UNICEF safe water campaign fund-raising
October 1 to November 15, 2015
3,426,277 yen
Disabled person support fund-raising
February 10 to March 13, 2016
3,876,003 yen
Total
60,661,945 yen
Community contribution activities in various regions
As a member of local communities, AEON MALL respects traditional events such as local festivals and cultural activities of citizens, and provides support that goes beyond the framework of commercial facilities at its malls in Japan and other countries.
Ongoing support for disaster-stricken areas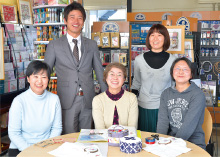 "Higashi-matsushima Stitch Girls" project
The "Higashi-matsushima Stitch Girls" project started at the suggestion of the talent figure Misato Okada in 2013. It is run by the Higashimatsushima Organization for Progress and Economy, Education and Energy. This is an initiative to create opportunities for local women to set up a new industry based on traditional Danish cross-stitch needlework and play an active role. It was selected by the Reconstruction Agency in June 2014 as a model business to drive the "new Tohoku" forward. There are currently 73 women who take part as stitch girls. The company widely promotes the activities of this project by holding workshops, exhibitions and sales at its malls in the Tokyo metropolitan area as part of its support activities for Higashi-matsushima City, which the company began soon after the Great East Japan Earthquake.
Project that brings people together
The AEON Group is working on a "project that brings people together," aiming to help communities recover and rebuild from the Great East Japan Earthquake. In fiscal 2015, we dispatched a total of 566 volunteers over ten times to Minamisoma City, Fukushima Prefecture, and other places. We also dispatched volunteers to Joso City, Ibaraki Prefecture, which suffered damage due to the collapse of a levee following heavy rainfall in September 2015.